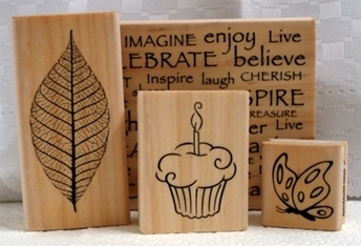 View our range of craft rubber stamps which are all made in our workshop at Concord West, Sydney. Features of our stamps are:
Long lasting, high quality rubber

Stamps clear, crisp images

All designs available mounted on pine wood blocks. Most can be purchased unmounted and many are now available as Cling Rubber Stamps.
Note: All stamp images are shown at a low resolution for fast viewing. Click on the image to view it at a higher resolution.
Images shown are not actual size, please refer to the stamp dimensions shown for actual sizes. A quick indication of the stamp size can be found in the stamp code. The number in the code number refers to the block size. eg Code A33B: The 33 means the block size is 3x3cm, or Code G410A: the 410 means the block size is 4x10cm